The Glenturret Music Arena attracts top bands
The Glenturrent Music Arena is certainly considered to be one of the highlights on the day and goes from strength to strength bringing local, national and international music acts to the stage, with the 150th anniversary year being no exception!  Crieff Highland Gathering are delighted to introduce you to three fantastic bands for you to experience on the 16th August! 
The Red Hot Chilli Pipers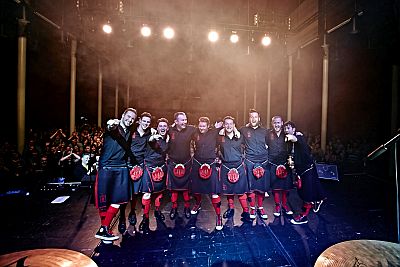 The American Rogues
Drawing favourable comparisons to Wolfstone, Afro Celt Sound System, and Trans-Siberian Orchestra  and consistently providing performances from Grade 1 bagpipers and other world class musicians this Canadian/American group has electrified audiences on three continents for many years.  They have added to their ever-growing family of fans at music festivals, theaters, Highland Games, military bases, clubs, weddings, memorial ceremonies, wineries, and corporate events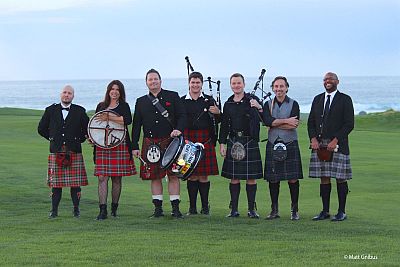 anywhere that presents top-quality, high-energy music. This has even included shows with world-renowned violinist/composers Lindsey Stirling and Alison Krauss, as well as airplay on TV and radio, and shows at non-Celtic venues such as the World Music Festival in Quebec, Canada where they kicked off the 6 day event to widespread acclaim (they've played this festival 7 years in a row and counting).  In 2017 they became the "St. Paddy's Band" of Rogers radio stations nationwide when they recorded Celtic versions of contemporary songs for airplay, 2018 saw them appear at festivals in Scotland (including their appearance as the first international act at the Cowal Highland Gathering, one of the largest Celtic events in the world), and 2019 saw them headline in Abu Dhabi and at the Greg Frewin Theatre in Niagara Falls, and sell out the Harbourfront Centre Theatre in Toronto with Japanese taiko group, Nagata Shachu.  For 2020 they have been invited to return to Scotland to perform the 150th Crieff Highland Gathering and they will also continue to perform Celtic/Japanese Hybrid Music with Nagata Shachu under the name "The Dragon & the Rising Sun".  With shows in Japan, Scotland, Italy, Spain, Guam, Cuba, Greece, and the United Arab Emirates, their hard won road successes have established them as artists with bona fide international acclaim.  Renowned for their musical skill, quick wit, compelling storytelling, and engaging stage show the AMERICAN ROGUES have mastered the art of creating an immediate connection with audiences who can't stay in their seats.  They are equally known for their epic, multi-instrumental sound that crosses the musical landscape to include jigs, reels, hornpipes, ballads, originals, covers, soundtracks, patriotic and military music, Irish foot-stompers and more.  The AMERICAN ROGUES are fast becoming a household name with music lovers around the world, loved by young and old of all backgrounds.
Elephant Sessions