Crieff BID Supports Games & Local Businesses
Crieff Highland Gathering is delighted to announce that this year's Taste of Tartan food & drink marquee at the Gathering is to be sponsored by the Crieff BID group.
The Taste of Tartan, a new addition to the Gathering two years ago, is hugely popular with locals & visitors alike and allows them the opportunity to "try before you buy" the very best food & drink that Crieff and the surrounding area has to offer.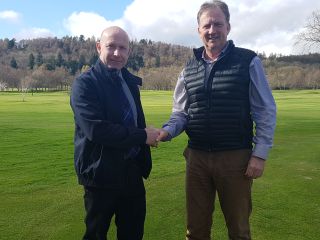 CHG Chairman Ian Stewart said "the Taste of Tartan food & drink marquee has proven a great addition to the Gathering but is one of the areas that although popular, comes at a cost. This fantastic donation of £3000 from the BID group not only allows us to once again showcase the best the area has to offer but also allows us to offer to those local businesses within the Crieff BID area, a position within the marquee absolutely FREE!"
Ian went on to add "Crieff Highland Gathering costs in the region of Seventy Thousand Pounds to produce. Around half of that is gathered through gate receipts with the other half made up through patrons, sponsors or indeed local groups such as BID donating or sponsoring events or attractions at the Gathering. We are very fortunate that we have such great support from the local community. Without this support Crieff Highland Gathering would not be able to continue in the current format it is or indeed be Scotland's Premier Highland Games. 
The Crieff BID group have been fantastic supporters of CHG over the past couple of years with donations towards the Chieftain's Parade, a huge crowd puller to the High St. and although part of this donation will still be used for that, the bulk of it will go to promoting the Taste of Tartan. We at CHG along with the BID group are always keen to promote Crieff and it's local businesses and we hope that the offer of a FREE stand within the marquee will help and encourage those local food & drink suppliers to actively take part in Crieff's annual showcase event on Sunday 19th August"
Neil Combe, Crieff BID, said 'We are delighted, once again, to support the Highland Gathering. It is a very important event in Crieff's annual calendar and draws large crowds of visitors from across Scotland and further afield. This year we have chosen to sponsor the 'Taste of Tartan' which compliments our ongoing Marketing Campaign - 'Taste the Adventure'. We are looking forward to another fantastic day out where everything great about Crieff is firmly in the spotlight'.  
For more information please contact Crieff Highland Gathering at secretary@crieffhighlandgathering.com