The Gathering
Crieff Highland Gathering looks forward to welcoming you in 2023!

The Gathering is held in the centre of Crieff at the iconic Market Park. We have a full programme of traditional Highland games competitions on offer including Running, Youth Running, Cycling, Highland Dancing, Heavyweights, Light Field, and Tug o War. We will also showcase several Piping Performances throughout the day as well as the spine-tingling salute to the Chieftain and the customary Massed Pipe Bands finale.  We also have a full afternoon of top class traditional music in the Aldi Arena area of the Park.  
The History of the Gathering
There can be little doubt that traditional Games of agility and strength have been practiced in the Highlands from very early times. Formalisation and annual gatherings began around 1820 as part of the revival of Tartan and Highland Culture encouraged by Sir Walter Scott. In 1848 the Braemar Highland Games was attended by Queen Victoria. By this time the competitions were much as they are today with traditional stone and hammer throwing, tossing the caber, piping and dancing along with running and jumping events.
The first Crieff Highland Gathering was in 1870 and has occurred every year since with the two exceptions of 1914-18 and 1939-49 when no gatherings took place.  The Games continue to be the major annual local and tourist attraction in the area attracting circa 6000 people.  With continued investment the games will grow each year and continue as an annual event for the benefit of the people of Crieff and Strathearn. The Games are run extremely efficiently with high regard for all Health and Safety aspects.
Over the years Crieff Highland Games has been privileged to not only attract very high quality sponsors including RBS, O2, Famous Grouse,  Next Homes, Simon Howie, Foods Ltd & Kilmac Energy but  local businesses  from all sectors.  Our Chieftains  since 1950 have included Ewan McGregor OBE, Kenny Logan,  Elaine C  Smith,  John Beattie, Allan Wells MBE, Brigadier Melville Stewart  Jameson CBE as well as many local and prominent businessmen.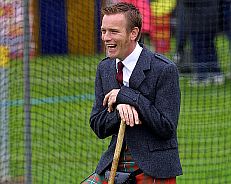 "Crieff Highland Gathering has played a significant part in my families lives over the years. My dad was a director for thirty years and my brother Colin is presently on the Board. I have very happy memories, while growing up in Crieff, of helping the directors set up the Market Park the week before the Games. I met some great characters like the legendary Parks Convener Derek Halley who sadly passed away earlier this year. Never in my wildest dreams at that time did I think, that in 2001, I would be invited to be Chieftain of the Games. It was an honor and a privilege to have been the Guest of Honor at one of the most prestigious Highland Games in the world. The occasion ranks amongst one of the most memorable days of my life and one that I will never forget"
Ewan McGregor