Chieftains
Each year the Gathering chooses an individual to be the Chieftain. This dates back to the early Scottish history when the "clans" all had a "chieftain" the leader of their family. The highland games allowed the "chieftain" to find out who were the strongest and fastest of his group who he would have in future battles. Today the Chieftain is an honorary position given by each Gathering to a person who they consider worthy of this position.
Crieff have in recent times been fortunate to have a number of respected celebrities or well-known sportspeople to accept the role of Chieftain. They will almost always have some close connection with Crieff and served the town and/or country with distinction. They are the Gatherings most important person and are given a salute and march past by the pipe bands and competitors, and award the prizes to the winners.
Have a look at our Chieftains, past and present.
Stephen Leckie
2022
The Chair and Board of Directors are delighted to announce Stephen Leckie as the 2020 Chieftain.  A local man and also Chairman and CEO of the Crieff Hydro Family of Hotels.
Stephen is the fifth generation of his family to run the Hydro which is a truly family affair with his wife Fiona also working there along with one of their two sons.  The Crieff Hydro opened in 1868 and is now the oldest trading company in Scotland and since Stephen took the helm in 1994 over £50 million has been invested to make it a true leisure resort competing on the world stage and bringing many visitors to Crieff and the surrounding area.  
Stephen has said, "I am honoured to be the Chieftain of the Crieff Highland Gathering in it's 150th anniversary year. My family and our hotel have had a long association with the Gathering and my Father was a Director on the Board for many years. There's an impressive line up for this year's event and I look forward to working with the Board to make the event a truly memorable occasion."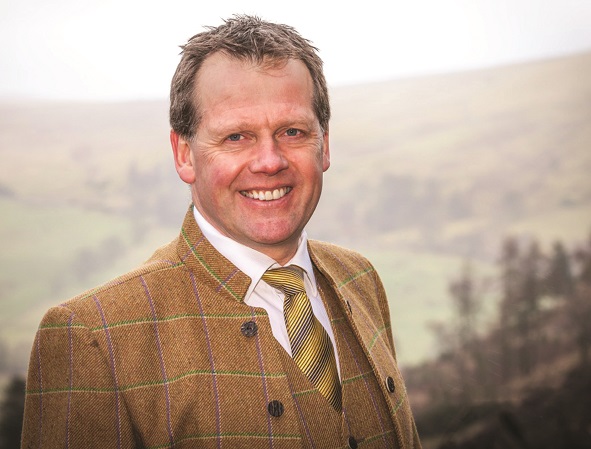 Jock Dewar
2019
The Chairman & Board of Directors of Crieff Highland Gathering are delighted to announce the Chieftain for 2019 will be John 'Jock' Dewar.
Jock is a local man, born in 1968 to his parents Ian and Shena, local farmers from Drumdowie Farm, Muthill.  He was educated at Morrisons Academy and was a member of Allanwater Young Farmers.  He met his wife Isabella at a local dance at Richmond House and they married in 1968 in Braco having three children, Mharie, Iain and Mairead and six grandchildren.  The same year Jock married Isabella he started in business with a tractor mounted excavator which grew into the local business we know today as J.M.Dewar Plant Contractor.
Over the years Jock has been a great supporter to the games.  Sponsoring the games for many years and supplying the machines to assist the set up.  He was also involved in reprofiling the park to increase the size of the main arena and the level area that now houses the music tent.
It is fitting that a local man who has done so much for the games over the years receives this honour.  The Chairman and the Directors of CHG are delighted he has accepted this role.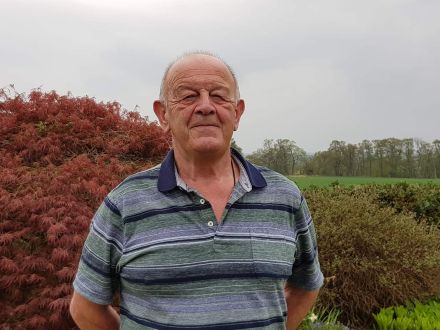 Mike Mihalic
2018
The Chairman & Board of Directors of Crieff Highland Gathering are delighted to announce the Chieftain for 2018 will be Mike Mihalic.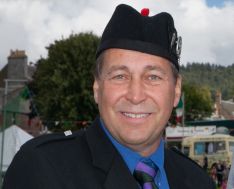 Mike who hails from Ohio has a close & long standing connection with Crieff Highland Gathering dating back to 2008. This was when, in his capacity as President of Ohio Scottish Games he established the twin/sister relationship with Crieff Highland Gathering and among many of the highlights during his tenure as President this was one of his premier accomplishments he rates very highly.
Initially formed to support each other's mission in the preservation of the Scottish Arts it has done so much more than that with very close cross Atlantic bonds now formed between people in Scotland and the USA.  This relationship celebrates it's 10 year anniversary this year.
Mike's entrance into the world of Highland Games and Scottish American Culture occurred back in 1998 when his 3 daughters, Theresa, Laura Beth & Christina became enthralled by Highland Dancing & Bagpipes thanks to a family trip to Ohio Scottish Games organised by their Grandmother, Pat Urquhart. What followed was many years of dancing & piping lessons for the girls which saw Mike become more & more involved in Highland Games, first starting as a volunteer marshal for the Highland Dance competitions right through to becoming President of Ohio Scottish Games in 2003, a role he maintained for over 10 years. Although no longer President of OSG he is so highly thought of, his new role is now as Ambassador to Ohio SG.
Mike has travelled to Scotland many times as the Ohio SG representative to attend Crieff Highland Gathering and in turn has hosted CHG Directors at his home in the USA.
Jim McGregor
2017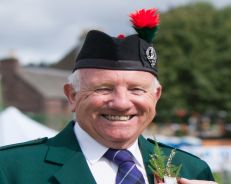 The 2017 chieftain of Crieff Highland Games will be well known local man Jim McGregor. The former Morrisons Academy PE teacher has had a close and long standing association with CHG dating back nearly 40 years, 30 of those as a Director and more recently as an Honorary director.
Although Jim retired from the board of CHG several years ago, he has continued to assist with setting up the park in the week leading up to games day as well as taking an active part on the day itself. His dulcet tones can be heard over the loudspeakers as he uses his wealth of knowledge to keep the crowds informed of the activities on the field in his role as commentator, which is something he will have to relinquish, for one year at least, now he has been named chieftain.
David Murchie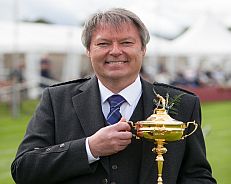 2016
A resident of Crieff since 1980 and a long time ambassador for the Perthshire town, David was born and raised in Auchterarder.  Despite being a talented golfer winning amateur tournaments and playing at county level David began his working career in local government.  However realising his talents lay elsewhere he became a golf professional in 1985.  In 1989 he was appointed Head PGA Professional at Crieff Golf Club taking over from another local well known face John Stark who was also our chieftain in 2000.
David is heavily involved with the Professional Golfers Association (PGA) and has held numerous roles both locally and nationally since 1997 culminating in his current position as Chairman of which he is midway through a four year appointment.  He will be in attendance at Hazeltine in September when Europe will try and successfully defend the Cup.
---
Eve Muirhead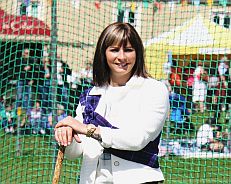 2015
A World Champion and Olympic Medalist, Eve is a remarkable young athlete who skipped the GB curling team at the Vancouver Olympics at the tender age of 19.  She represents and excels in all things Scottish; she is a world class curler, champion piper and a scratch golfer.  She is one of Scotland's most high profile and best known sportswoman today and in accepting our invitation to be our Chieftain she also becomes our youngest ever Chieftain in our history.
Although now settled nearby Stirling she grew up in Blair Atholl where she played golf off a scratch handicap at Pitlochry Golf Course and curled out of the Dunkeld Curling Club.  She was a clear choice for the Gathering as she has links with Crieff being a former pupil at Morrisons Academy School in the town.
---
Mark Beaumont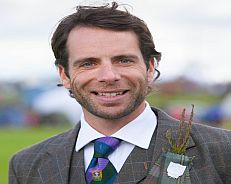 2014
Mark Beaumont has spent his life travelling the globe on expeditions and carrying out charity work and has carried the Queen's Baton around the Commonwealth in preparation for the Commonwealth Games.Mark's adventures started at a young age when, aged only 15, he cycled from John O'Groats to Land's End.  He trumped this feat in 2008 by setting the Guinness World Record for cycling around the world in 194 days and 17 hours, taking in twenty countries across Europe, the Middle East, India, Australasia and North America.  As a result of this world record he raised £18,000 for charity.  His video diaries of the trip formed the basis of a Bafta nominated BBC documentary, The Man who Cycled the World, broadcast in August 2008.  Subsequent achievements have included cycling the length of North and South America.  He has also been involved in expeditions rowing to the North Pole and attempting to set a World Record for rowing across the Atlantic Ocean.  
---
John Robertson
2013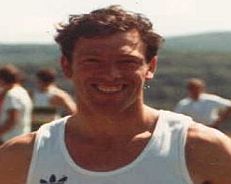 Crieff Highland Gathering has been a permanent fixture in the life of John Robertson since 1967 making this his 47th Gathering.  Born and brought up on the farm at Newton of Logierait, John was introduced to "throwing" heavy implements about at home by his brothers Bill and Tom.  He started in competing in the Heavy events in 1967, but after taking part in a running event in 1970, sprinting became his main focus.  At age 50 John could still sprint well, clocking a Championship Best Performance in winning the Scottish Masters 100m in 12.2secs.
John is still involved with several Hihgland Games, organising and/or judging Track & Heavy events.
---
D S McLaren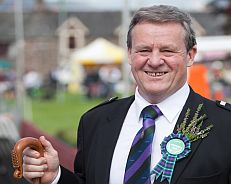 2012
Stuart McLaren has been involved with Crieff Highland Gathering throughout his life, having helped out as a youngster when his father was a director, before serving as a director himself for 25 years, including a stint as Chairman.  During that time Stuart worked mostly with th heavyweights and also did the commentary.  Stuart remains an honarary director of the Board.
As well as his Highland Games duties, Stuart has been an enthusastic supporter of local community groups throughout his liftime.  On being invited to take up the Chieftain's role Stuart said "I am very surprised and pleased to have been asked, especially following in my father's footsteps as a former Chairmain and Chieftain.  I think that Crieff Highland Gathering is one of the most notable events in the local caldendar and I hope it continues for many years to come".
---
Brigadier Melville Stewart Jameson CBE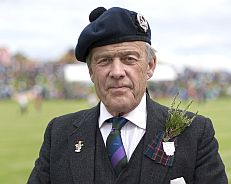 2011
Although now retired from active military service, Brigadier Jameson retains an important role in the ara as the Queen's personl representative for Perth & Kinross.
After growing up near Blairgowrie and being educated at Glenalmond College, Brigadier Jameson has enjoyed a distinguished military career, serving with the Royal Scots Dragoon Guards and as a former commander of the Highland Brigade.  He then went on to become producer of the Royal Edinburgh Tattoo from 1994 to 2006.
In accepting the Chieftain's role at Crieff Highland Gathering, the Brigadier follows on from a former holder of the role of Lord Lieutenant, the late Major Sir David Butter KCVO who was chieftain in 1983.
---